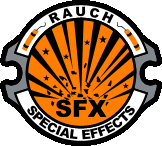 SPECIAL EFFECTS
We do since 1998 Special Effects for the entertainment industry and we are an reliable partner for you.
Our constant growing pool of equipment includes all kinds of special effects machinery and equipment.
For example:
Smoke machines, Hazers, ground fog machines, snow machines, foam machines, rain systems, pumps, lpg gas fire systems, Air mortars, Air movers, Windmachines, fans, trussing, confettiwoofer, bubble machines, ratchets, nitrogen kickers, etc. ...
With our fully developed 30t workshop - trailer, and machinery containers (40' and 20') we can work worldwide mobile and realize with our know-how the special effects in you script.
For example:
Smoke, fog, ground fog, steam, snow, wind, fire, explosions, impacts, bullet hits, ice, foam, cobwebs, chemical effects, breakaways, mechanical effects, topriders, gimbles, etc. ...