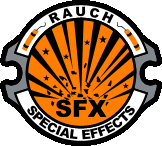 WE SELL YOU THE NON ORDINARY!
EXPENDABLES
We sell only products chosen and tested by us which are in an right cost-performance ratio.
All products that we offer are with us in daily use at movie productions, events and shows.
If you have any questions about products, do not hesitate to call us.
QUESTIONS & ORDERING
phone: +49 30 940 540 13
mobile: +49 170 78 55 773
mobile: +49 170 73 88 799
email:
office@rauch-sfx.com
Please have same understanding, that some of our machines build and developed by ourselves, are not for the retail. SFX are very extensive and the one or the other professional secret should remain a secret.