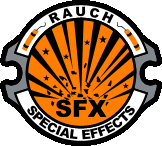 ABOUT US
ABOUT US
We are one of the
leading "full range" Special Effects Companies
in Germany, for
film, TV and the entertainment industry
, with bases in Berlin and Munich.
We attend each of our customers individually and offer him professional realization of his special effects according to the highest saftey standards, bespoken to his project.
But also for fireworks you are right here, too. An own department attends also each customer individually and works out his firework.
Our extensive know-how about Special Effects and Explosives makes us to experts in our industry and therefore we also work for other companies either consultant or executing.
Our company offers you the innovation and experience highly respected SFX technicians, pyrotechnicians, mechanics and engineers with international credit lists.